Expert Roof Cleaning and Moss Removal Services in Vancouver
There is an ongoing argument as to whether or not one should pressure wash for roof cleaning and mildew & moss removal. After spending many years trying different methods including many different moss control agents, zinc strips, and pressure washing, it is the opinion of Supreme Green Home Services that pressure washing wins by a mile! Supreme Home Cleaning Services is leading roof cleaning company in Vancouver and we are also No.1 in moss removal service provider in Vancouver.
A pressure washing PROFESSIONAL, that knows how to properly use his/her machine, wand, and correct tips can pressure wash a roof with as little as 500 psi (pounds per square inch) pressure. That amount of pressure does absolutely no damage to any roof including asphalt. There will be no damage whatsoever to asphalt shingles nor does it remove any granules from shingles. If it did, we would find granules in the eavestroughs along with all the moss and mildew etc. that we have already displaced.
Eco-Friendly Roof Cleaning Experts
Moss control agents can take weeks and they tend to look patchy. Zinc strips depend on the rain to wash the zinc evenly and consistently down the roof, and that just does not happen. Rain finds its own way down a roof. Because of this, Zinc strips tend to leave lines on your roof as well as leaving a lot of moss.
The only way to make a roof look like new again is to use a pressure washer correctly. Pressure washing the correct way is by far the best and most cost-effective solution.
Services available across Greater Vancouver area.
If you need a Vancouver roof cleaning specialist and a moss removal expert. Please call the professionals at Supreme Green Home Services. We provide roof cleaning and moss removal in Vancouver, North Vancouver, West Vancouver, Burnaby, Richmond, Port Coquitlam, Port Moody, Langley, New Westminster and Surrey.
Look at our before and after pictures and read our testimonials.
Before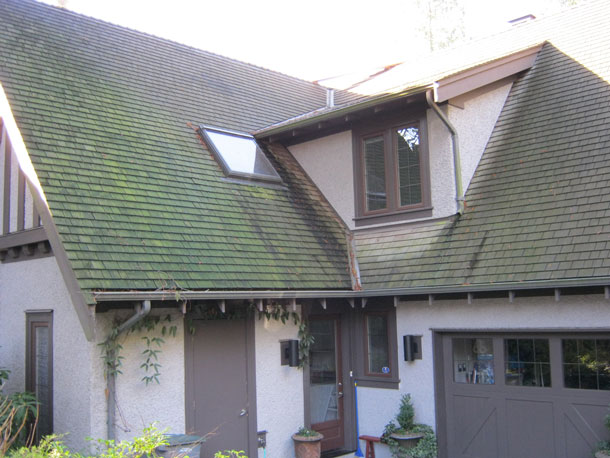 After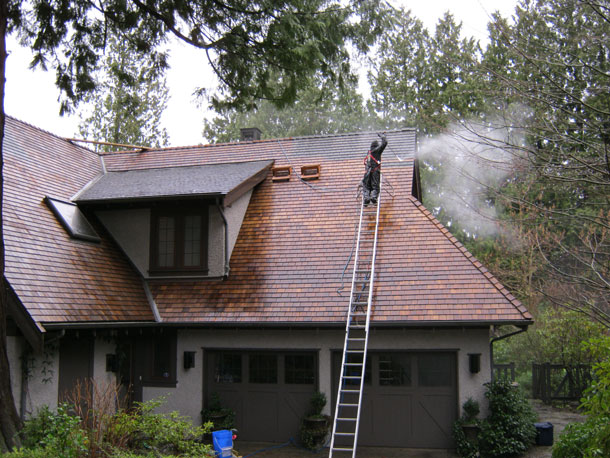 " Supreme Green Home Services has done a tremendous job on pressure washing off all the moss from both my garage and home roofs. Our neighbor just got a brand new roof and ours looks as good as theirs. Thanks, guys!"

— Frank W
Besides "Roof Cleaning and Moss Removal" services we also provide Eco-Friendly Power / Pressure Washing Services in Vancouver Bc.
For your FREE estimate please fill out the form to the right or simply call us at:
(778) 302-1156