All of us here at
Supreme Green Home Services
take pride in the fact that we are an eco-friendly home cleaning company. We do not use any chemical solvents or cleaners. All our products are non-toxic and non-allergenic, biodegradable (whenever possible) and we use only recycled garbage bags and paper products. We believe in a "green" Canada & a "green" planet and encourage you to go "green" as well.
We operate in all of Greater Vancouver, including; Vancouver, North Vancouver, West Vancouver, Burnaby, Richmond, Port Coquitlam, Port Moody, Langley, New Westminster and Surrey.
Larry Leathem
President and Owner Supreme Green Home Services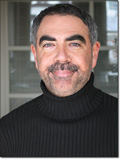 Larry has been fortunate enough to have played 2 professional sports. He played briefly in the WPBT (World Professional Billiard Tour) and in the Canadian Football League with the Calgary Stampeders and Winnipeg Blue Bombers. Larry is also better known as "Jake the Clown". Jake has been performing his comedy magic and juggling routine for over twenty years for both children and adults. He has appeared on both local and national television. Worked in the Shrine Circus and in countless children's events and charities. As a businessman and entrepreneur, Larry has owned 15 different businesses including fitness clubs, ESL schools, restaurants and home service businesses.